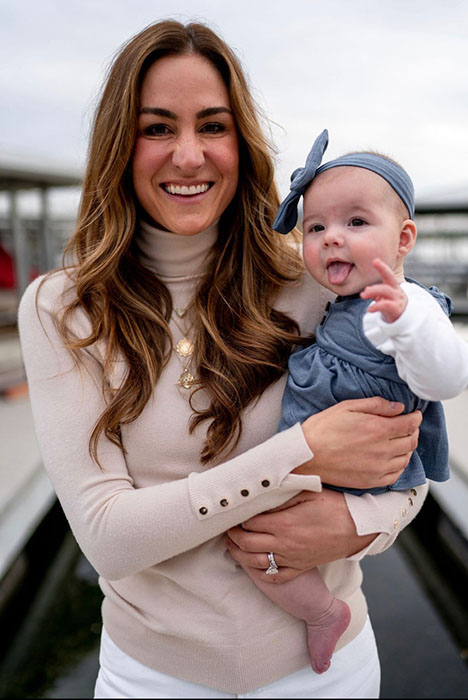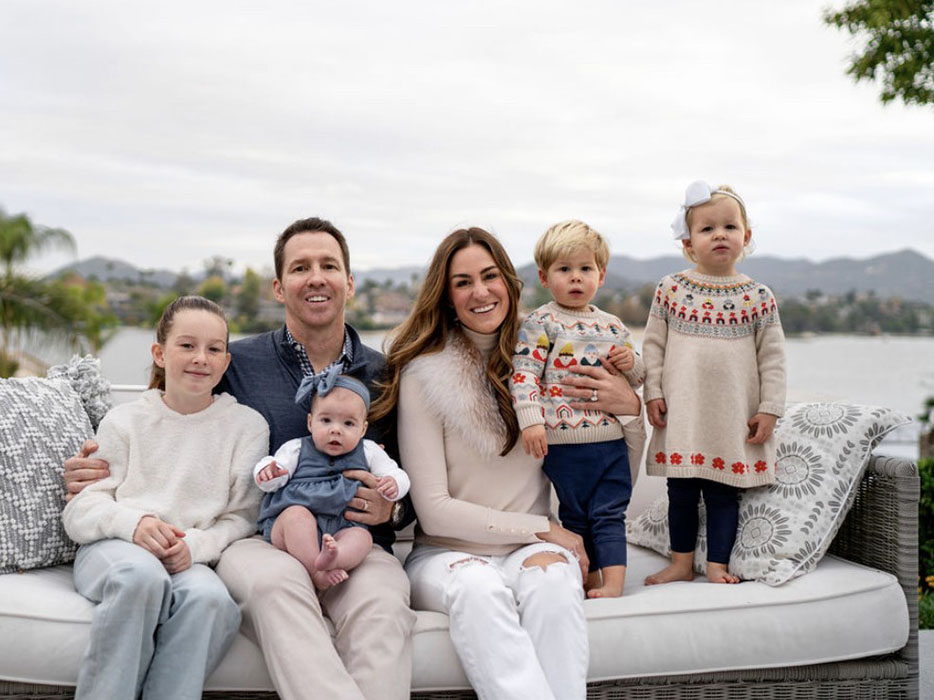 "What is your experience of life with endometriosis?"
I was diagnosed with Stage 4 endometriosis when my fertility specialist identified a hydrosalpinx, went in to remove it, and was unable to due to the number of lesions adhering the tube to my bowels. Several months later, I was hospitalized for chronic back pain. This ended up being a symptom of my endometriosis and a large chocolate cyst on my left ovary which had scarred together into a 9cm mass. 
Reflecting back on my life, it should have been obvious I had endo. My mom had it, and I had debilitating cramps throughout adolescence and high school, forcing me to miss school and sporting events on numerous occasions. In the years following, I had all the characteristic symptoms of IBS. I was told it was diet dependent, stress, and advised to "tough it out". Pamprin and Immodium AD were my BEST friends. Eventually, I was put on birth control. 
"What caused you to first explore your symptoms?"
I did not even consider my symptoms until I was 35 years old, trying to conceive, and unable to. Only after a failed round of IVF and miscarriage, was my endometriosis actually discovered.
"How many doctors' appointments did it take for a diagnosis? Were you ever misdiagnosed at first?"
I was never diagnosed with anything! I was told to take over the counter pain meds and prescribed birth control. No one even mentioned the word endometriosis. Even when I asked about it, as my mom had a history of it, I was told it was NOT hereditary. It most certainly IS! This was maddening to me.
"Once you received a diagnosis of endometriosis what happened next?"
Luckily, my fertility doctor observed it first hand during a laparoscopic procedure, and immediately referred me to Dr. Laurence Orbuch. I got in to see him within a month, had a lengthy consultation, and decided to proceed with excision surgery due to the high level of pain I was experiencing and my strong desire to conceive. I had surgery two months later, including a left salpingectomy and ovarian cystectomy. I felt IMMEDIATE relief. In preparation for surgery, and per Dr. Orbuch's recommendation to treat the condition holistically, I saw a pain management specialist, underwent extensive pelvic floor PT, worked with a nutritionist specializing in anti-inflammatory diets, attended acupuncture 2X a week, and cut out all household products that were potentially driving the disorder. It was a full time job/commitment to get better!
"Where are you in your endometriosis treatments now?"
NONE! I am entirely pain free, including the lack of period cramps and excessive bleeding. I have since conceived 3 children — boy/girl twins via IVF immediately following my excision surgery, and a surprise baby girl, 20 months after the twins (with only one fallopian tube)! SUCH a miracle.
"What would you like to share with those just learning about endo or just finding out their own diagnosis?"
Your pain is real and there IS a solution available to you. Seek an experienced specialist — not just any one can treat this disorder! Give excision surgery a chance to alleviate your symptoms and increase your chance of conceiving if that is your wish. Do not let anyone tell you that this pain is in your head, or suggest drugs like Lupron to treat you. Excision is the gold standard.
I've attached a photo of me and miracle baby, Gianna Grace, as well as a picture of our whole family, including twins (Jack and Josephine) conceived via IVF after my excision surgery (and step-daughter-rockstar-big-sis, Allie).
After a year of visiting various doctors, including other gynecologists, all of whom misdiagnosed me on a gynecological issue, Dr. Laurence Orbuch figured out what was causing my pain in my first visit to his office.  He then performed a lengthy and very successful surgery to fix it.  I found Dr. Orbuch to be smart, thorough, patient, as sweet as can be and genuinely concerned for me and my wellbeing.
His staff, which were completely responsive at all times, promptly delivered and returned messages, was kind to me even when I was out of sorts and did somersaults to accommodate my schedule and get the surgery booked quickly, which was no easy task.  Dr. Orbuch took care to explain every detail of the surgery and recovery expectations to me several times.  He even sent messages out to my Mom during the surgery, so she could know how things were progressing and then spent time debriefing with her afterwards.  He also visited me in the hospital the day after the surgery to make sure I was recuperating well and has monitored my progress since the surgery.  I cannot recommend Dr. Orbuch more highly.
AJ
In my quest for answers about my infertility, Dr. Laurence Orbuch was the first doctor in 5 1/2 years that listened to me. Actually, really listened. He didn't throw out a bunch of medical talk that I'd heard time and time again through-out the years. He was 100% honest with me. I knew going into my surgery that he might not find anything, but I also felt confident that with our previous talks that I would find some answers. Dr. Orbuch found stage 4 endometriosis. It was everywhere. I didn't have the type of endometriosis that causes extreme pain (in fact, I had very few symptoms other than my infertility). I felt more relieved than I had been in 5 years. I finally knew why I wasn't able to conceive. Why 3 rounds of Follistim/clomid AI's and IVF failed. I found out 6 weeks after my surgery that I was pregnant. Shock of my life!! She's now 2 running around upstairs terrorizing her 12-year-old sister. I know my story is rare, but I would encourage any woman that's been struggling with infertility to seek another opinion with Dr. Laurence Orbuch. I will forever be grateful for him.
DH
Words cannot begin to describe how grateful I am for Dr. Laurence Orbuch.  I have suffered from extremely painful periods for over 15 years and Dr. Orbuch was the first doctor to LISTEN. Thanks to him I was finally given my diagnosis of endometriosis and Dr. Orbuch actually treated my condition as opposed to mask it.
Prior to coming to Dr. Orbuch I have been on numerous birth controls pills, have had emergency laparoscopic surgery and was given the wrong diagnosis resulting in a 3-day hospital stay receiving unnecessary anti-biotics, was told to get pregnant to fix my "painful periods," as well as was told by 3 separate surgeons to remove my ovaries.
I traveled from Philadelphia to NYC to see Dr. Laurence Orbuch after reading about him on Nancy's Nook (a facebook group that supplies its members with evidence-based information on endometriosis) and after our first visit I knew he was different. After listening intently to everything I have gone through and thoroughly reviewing my medical history, he developed a plan of skilled excision and was the first surgeon who stated he would try to save my ovaries. Being a 28-year-old female at the time who just got engaged, this was exactly what I wanted to hear.
I had my surgery at Lenox Hill Hospital and was so pleased with all the care I received there.  Dr. Orbuch's bedside manner was so professional, yet compassionate which made me feel so comforted, knowing I was in good hands. Dr. Orbuch was able to remove my endometriosis as well as save my ovary which was encased with numerous endometriomas. At my post-op appointment with Dr. Orbuch, he told me to make sure to send him pictures of my future children, which I cannot wait to do one day!
I am now a year and a half out from my laparoscopic surgery and can say that I have minimal to no pain with my menstrual cycles, not requiring any pain medicine or birth control.  Thank you SO much Dr. Laurence Orbuch for everything you have done for me!  You will always be an important part of me and my family's life!
KC
I'm not one to write reviews, but my experience with Dr. Laurence Orbuch was so life changing that I felt truly compelled to share my experience!
I found Dr. Laurence Orbuch through "Nancy's Nook" a group for women with endometriosis.
Dr. Orbuch is one of a select few specialists in the United States that the group recommends. I instantly felt at ease with Dr. Orbuch. He has a quiet, calming presence and his confidence and knowledge made me trust that he was the right doctor for the surgery.
The surgery was a success and the recovery was not too bad which I believe that has to do with
Dr. Orbuch's skill as a surgeon. As I write this review, I sit breastfeeding my sweet 3-month-old baby who wouldn't be here if I had not found Dr. Orbuch.
Not only is Dr. Orbuch an amazing surgeon but it is truly inspiring that him and his wife dedicate so much time and effort towards getting the awareness of endometriosis out there. My sister and sister-in-law have also had successful surgeries with him. We are all so grateful.
I also want to add how kind and helpful his office coordinator, Lekhma, was. I cannot recommend Dr. Laurence Orbuch and his team enough!
RT
What can I say?   I've never had a doctor I've trusted more than I trust Dr. Laurence Orbuch.  In surgery he works with his wife, Dr. Iris Orbuch.  How cool is that?  His assistant is awesome; and when I ask for a call back, I get it. Dr. Laurence Orbuch's experience with state-of-the art treatments make it easy to explore the range of options available for women's health, which came in handy when I needed surgery for fibroid tumors. Dr. Orbuch made the tiniest incision, removed the tumors and made it possible for me to have a healthy pregnancy.  As it turns out, I am a fibroid making machine.  Years later they grew back, and I chose surgery again. The scar is still tiny.  My abs are flat, and I've never felt better.  Dr. Laurence Orbuch knows what he's doing, he's kind, and he's accessible.
SE
After ten years of suffering with endometriosis and eight doctors repeatedly telling me that there was nothing wrong with me, Dr. Orbuch needed just one visit to correctly diagnose me and, most of all, offer me a solution. Four months ago, he performed a successful surgery on me to fix it, and he has given me a new life. More precisely, he has given me my life back. My pain is gone. My fears are gone. And I have a successful diagnosis that proves wrong all those doctors who thought my pain, my chronic tiredness, and my constant discomfort and weird symptoms were the product of a busy mind.
I can't express with words the gratitude I feel towards Dr. Laurence Orbuch, the first and only doctor who has treated me and my illness with respect, compassion, intelligence, and most of all advanced science. Dr. Orbuch has literally changed my life; now that I have found a doctor who understands what is happening, I feel empowered enough to make decisions about it. I no longer live in fear and in pain, and that's due to the dedication of Dr. Orbuch, one of the few professionals in the world who have taken an interest in learning more about endometriosis. I can only imagine the number of hours Dr. Orbuch and his team must have spent investigating one of the most unknown and overlooked conditions in the world.
With regards to my surgery, Dr. Orbuch went above and beyond his duty to make me understand that sometimes unplanned procedures need to be done. We went over everything twice to make sure I understood what I was consenting to. I recall his tremendous patience when he explained to me in plain English what those medical terms that scared me so much meant. I went into surgery ready, fully understanding what was going on, and fully trusting Dr. Orbuch and his wonderful team.
Endometriosis is a silent illness, but it can have terrible consequences for those of us who suffer it. We have a myriad of symptoms that interfere with our daily life in many different ways, and because not many doctors are trained to diagnose and treat it, we basically went from surgery office to surgery office without answers -and very often a condescending report that indicates we need to "relax." Trust me: going to a spa doesn't cure endometriosis. Science does.
Now, when I look at myself in the mirror, I see three tiny scars in my abdomen as a result of the surgery. Every one of them reminds me how it took me ten years and a transoceanic trip to find a doctor good enough to understand what was going on with my body, and who was knowledgeable enough to treat it. That was Dr. Orbuch, and I will never stop being grateful for what he did to me: He gave me my best chance.
BC
Very nice staff. Once I was in, very quick and professional.
Dr Laurence Orbuch was great and I would highly recommend him and his practice!
Great Doc!
He was really nice, quick, and thoughtful.
Dr. Laurence is very compassionate and the most gentle doctor I've ever seen. He asked me many questions about my medical history. He was patient and encouraged me to speak even when I was holding back tears. He is expert in endometriosis and the total care of a patient. I'm very happy to be in his care. The young lady on the front desk is really nice too and any issues with insurance she's quick to address. I would definitely recommend Dr. O!
I instantly felt at ease with Dr. Orbuch. He has a quiet, calming presence and his confidence and knowledge made me trust that he was the right doctor…
After many painful years, I now have answers and much less pain in my life. I've always felt listened to and respected. Thank you Dr. Orbuch!
I've had three different OBGYN doctors and he is by far my favorite.
Dr. Orbuch was terrific, thorough, and had a wonderful bed side manner. I would highly recommend him.
Dr. Orbuch is great. He made me feel very comfortable and answered all of my questions without making me feel rushed.
For the first time I felt like I was talking to someone truly knowledgeable, and truly interested in healing me, rather than giving me a band aid and dismissing my pain.
I'm not one to write reviews but my experience with Dr. Orbuch was so life changing that I felt truly compelled to share my experience!
I cannot say enough about how kind and wonderful he has been with me and walking me thru step by step, leading me up to my surgery.
If you want a skilled surgeon in excision laparoscopy, he's the doctor for you!
He truly takes the time to care for you. I HIGHLY recommend his services!
If you had a great experience, please leave us a review on Google. 

PHONE: (310) 980-3355
OFFICE: 8635 W 3rd Street Suite 880 • Los Angeles, CA 90048
​